NOTICE BOARD

-

June

2022
WORLD BUDGERIGAR ORGANISATION NEWS JUNE 2022
by Ghalib Al-Nasser, Secretary
Although the World Budgerigar Organisation (WBO) was formed in 1994. it was not until 2011 when they created their own prestigious award called The Gould Award in recognition of the naturalist John Gould who brought the budgerigar to England in 1840 from its native Australia. This prestigious honour is bestowed to a person who, in the opinion of the WBO Council, deserves it for Meritorious Services to the World of Budgerigars.
Since the first recipient in 2012, many well known fanciers throughout the world have been nominated by their affiliated societies to the WBO and the delegates, through secret ballot at their annual meeting, have voted on the winner for that particular year.
In 2020 Roy Aplin from the United Kingdom was the winner of this prestigious award. His nomination initially came from the German society the DSV and Roy received his award in recognition of his long service to the fancy since 1971 as a breeder of top-quality budgerigars, especially in the cinnamon and opaline cinnamon varieties. Roy is also a very well-respected judge who has judged in many countries around the world. His birds have done very well on the show bench, winning numerous Best in Show awards. He is a past President of the Budgerigar Society. Roy is also an accomplished artist who drew the WBO Pictorial Ideal in 2008.
The presentation to Roy (WBO Medal & Certificate) was not possible over the past 2 years due to Covid and no major event taking place; however, eventually the presentation was made to Roy at the recent Budgerigar Society Spring Event held in Doncaster in late May.
This year the WBO delegates will consider other nominations from various countries and the winner will be announced at the WBO meeting on 9th September 2022 to be held in Chianciano Terme, near Rome, Italy. The meeting will also coincide with the WBO World Championship Show to be held the following day at the same venue.
Judges invited for this show, which is organised by the Italian Federation and Club AMICI, are Han Schrijver (Netherlands), David Ingoe (New Zealand), Deon Davie (South Africa), Pierre Channoy (France), Roberto Sabattini (Italy) and Loris Montabelle (Italy).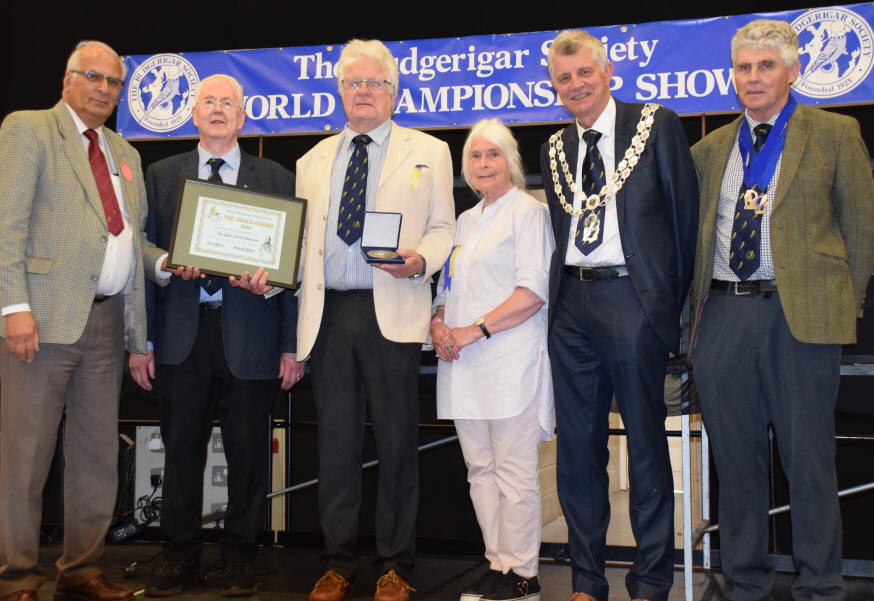 Grant Findlay (WBO Vice Chairman) presenting the Gould Award to Roy Aplin at the 2022 B.S. Spring Event with Ghalib Al-Nasser (WBO Secretary), Lucy Aplin, Chris Snell (B.S. President) & Maurice Roberts (B.S. Chairman)