WORLD CHAMPIONSHIP SHOW

-

MAY 2014

Report by Ghalib Al-Nasser
The WBO held its 20th Annual Meeting in Forli, Italy on 11th October 2013 by invitation from the Italian Club AMICI, to coincide with its Annual National Show. The WBO also staged the very first WBO World Championship Show at this event. Delegates from thirteen countries and five continents attended making the meeting a truly international event.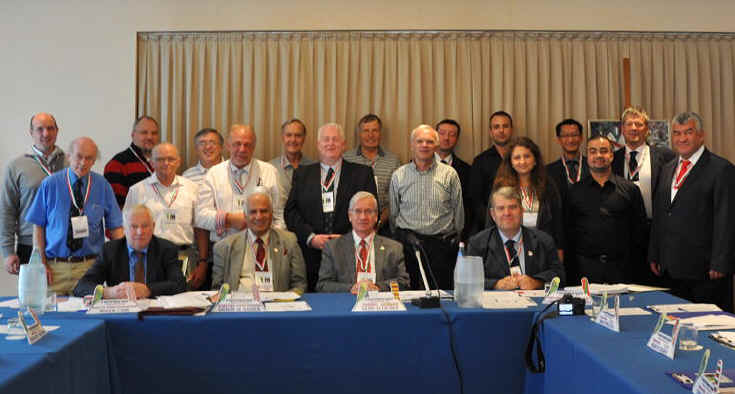 Delegates at the WBO Meeting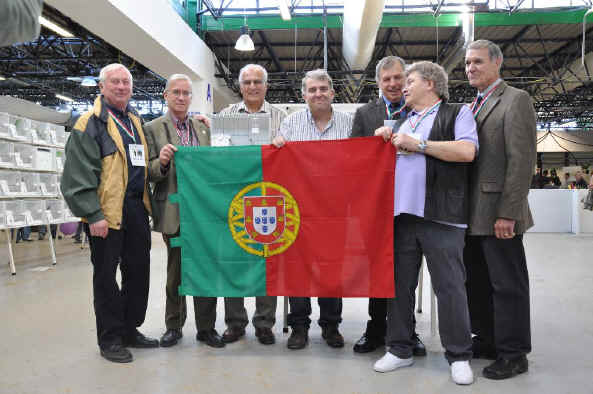 WBO Executive Committee (Roger Carr, Gerd Bleicher, Ghalib Al-Nasser and Carlos Ramôa)
with the Portuguese flag for the winner of Best in Show
with the judges Jim Fletcher, Jo Mannes & Dewayne Weldon
Having laid the guidelines in 2011, the WBO staged their first ever World Championship Show in Forli, Italy to coincide with Club AMICI National Show. The show was titled the, "Alessandro Bernabei Memorial Show" in memory of Alessandro who was Club AMICI WBO delegate for many years and who passed away in 2012.
Jo Mannes (Germany), Jim Fletcher (Australia) and Dewayne Weldon (USA) judged the entry of 580 exhibition budgerigars from 31 exhibitors from England, France, Germany, Hungary, Italy and Portugal. There were also 320 exhibits in the Budgerigar of Colour category with 16 exhibitors coming from Italy and Portugal. With 6 countries participating in this event it was truly an International show.
Major Winners
The award for Best in Show and Best Any Age went to Rui Teixeira from Portugal with a Dark Green hen. The Best Young Bird in Show went to Tibor Gyerkó from Hungary with a Skyblue cock. Best Opposite Sex Any Age & Best Opposite Sex in Show went to Alberto Castagnetti from Italy with a Spangle Grey Green cock while Best Young Bird Opposite Sex went to Roberto Doni from Italy with a Spangle Skyblue hen.

The Judges with Tibor Gyerko
Best of Colour Winners
Best Normal Green Series
Rui Teixeira
Portugal
Best Normal Blue Series
Tibor Gyerkó
Hungary
Best Grey Green
Giancarlo Carretti
Italy
Best Grey
Pierre Channoy
France
Best Opaline
Gerd Bleicher
Germany
Best Cinnamon
Giuseppe Santangelo
Italy
Best Opaline Cinnamon
Tibor Gyerkó
Hungary
Best Lutino or Albino
Giancarlo Ferrioli
Itay
Best Spangle
Alberto Castagnetti
Italy
Best Dominant Pied
Rui Teixeira
Portugal
Best Recessive Pied
Tibor Gyerkó
Hungary
Best Yellowface
Giuseppe Cerrato
Italy
Best Any Other Colour
Tibor Gyerkó
Hungary
Best Crest, Clearwing & Fallow
Ghalib & Janice Al-Nasser
UK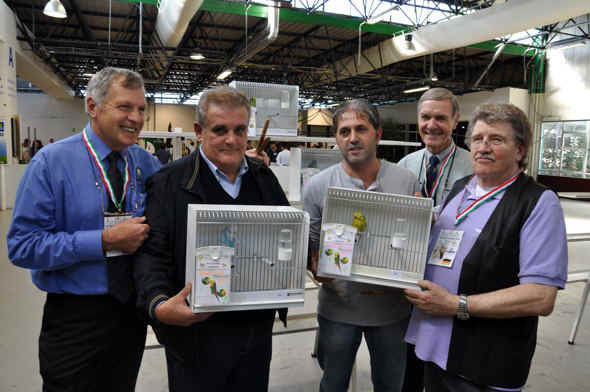 The Judges with Roberto Doni & Alberto Castagnelli